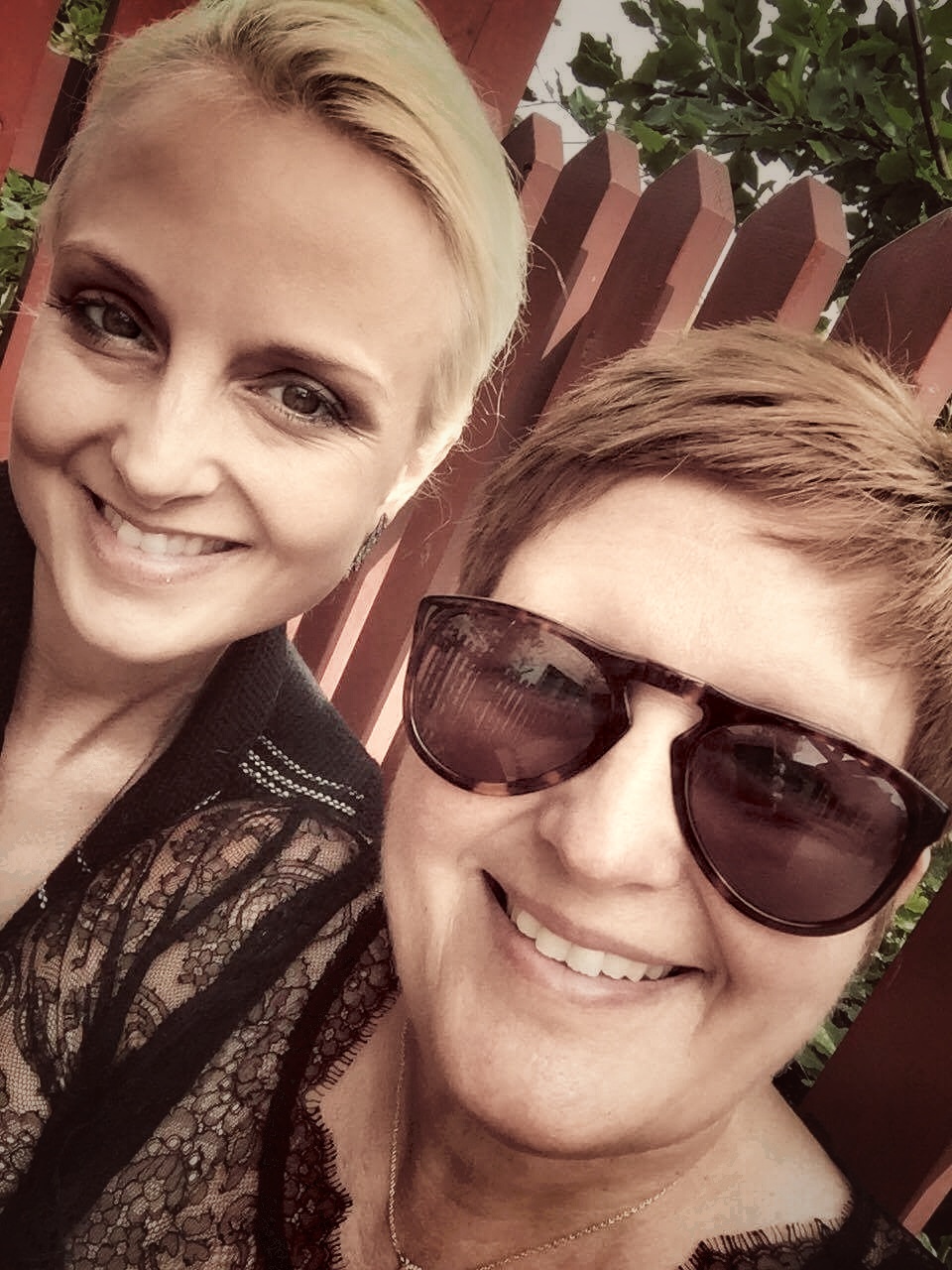 Stjernestunder og oplevelser – dem gemmer jeg på. Og i dag var én af slagsen, da jeg havde inviteret min elskede mor med på en tur i "Den Gamle By" i Århus – verdens første frilandsmuseum grundlagt helt tilbage i 1909. Formålet med byen er, at vise os gæster hvordan Danmark så ud i "gamle dage" – helt tilbage til 1500-tallet og op gennem H.C. Andersens tid, industrialiseringen og til velfærdssamfundets storhedstid i 70'erne. Og det er ikke "bare" beskrivelser af tidsperioderne og dermed den klassiske måde at gå på museum, som man oplever i "Den Gamle By". Nope, det er et levende museum, med mennesker der både er klædt og arbejder som i gamle dage og bor som man gjorde – i originale huse hentet hjem fra landsdele over hele landet. Man kan endda også snakke med "beboerne" – og i Apotekerhaven var der da også en "heks" der tilbød mig, at hendes urter virker bedre end lægernes;) Om det er gennemført? I den grad, og der er hele tiden noget man liiiige skal se – uanset om man er barn eller voksen. Der er noget for os alle. For børn er der endda en legeplads med karusseller, gynger etc som i gamle dage.
Udover selve "bybilledet" med beboerne, gader og stræder – så er der også små museeer og samlinger rundt om i byen – bla. "Århus fortæller" om byens historie fra vikingetiden til i dag – og så "Smykkeskrinet" med en imponerende samling af danske smykker fra det 20. århundrede.
Herunder lidt billeder fra dagens besøg – og lad mig understrege det med en stor tyk streg. Næste gang du er i Århus, så besøg "Den Gamle By". Få dig en snak med byens beboere, spis et stykke smørrebrød – eller en lækker kage – som i gamle dage – gå en tur i byen og oplev det hele. En spændende tidsrejse i den danske historie – en sjov måde at blive klogere på det liv der var før os og som har skabt grundlaget for dagens Danmark.
Læs mere om Den Gamle By HER.
ENGLISH
Good times and experiences – that's an important part of life. Today I had such a lovely time with my mom visiting "The Old Town" in Aarhus – an open-air museum of urban history and culture in Denmark through three decades. And it's not "just" a normal presentation as you are used to at museums – no, the decades are being presented "live". Meaning it's a town with old buildings and real people living there, dressed and acting exactly as they did back in the days. And it's really done to perfection, everything is exactly as it was. Amazing how they even moved houses from parts all over Denmark, so we can experience them here in The Old Town. And if you feel like, you can even speak with the people "living" there. They act exactly as they would have done for real, it's amazing how well it's done. Visiting The Old Town is for both children en adults – there is something for us all to see, and for the kids there's even an playground made exactly as back in the days.
Apart from the buildings, people, food etc. – there is also around The Old City small museums and special collections. Among them you'll find "The Aarhus Story" presenting Aarhus from the viking age up untill today. And then "The Jewellery Box" with Danish Jewellery of the Twentieth Century.
Den Gamle By (The Old Town) is a national open-air museum of urban history and culture in Denmark through three decades. The museum consists of more than 75 historic houses relocated from all over Denmark.
Hereunder a few pictures from todays visit, and do me a favor – when you're visiting Aarhus, make sure to visit The Old Town. Have a chat with the citizens, enjoy traditional dishes such as open-faced sandwiches, take a walk in the streets and experience Denmark as it was. It's an interesting time travel and a fun way to become clever and wiser on how it was "back in the days". The days founding today…
Read more about The Old Town HERE.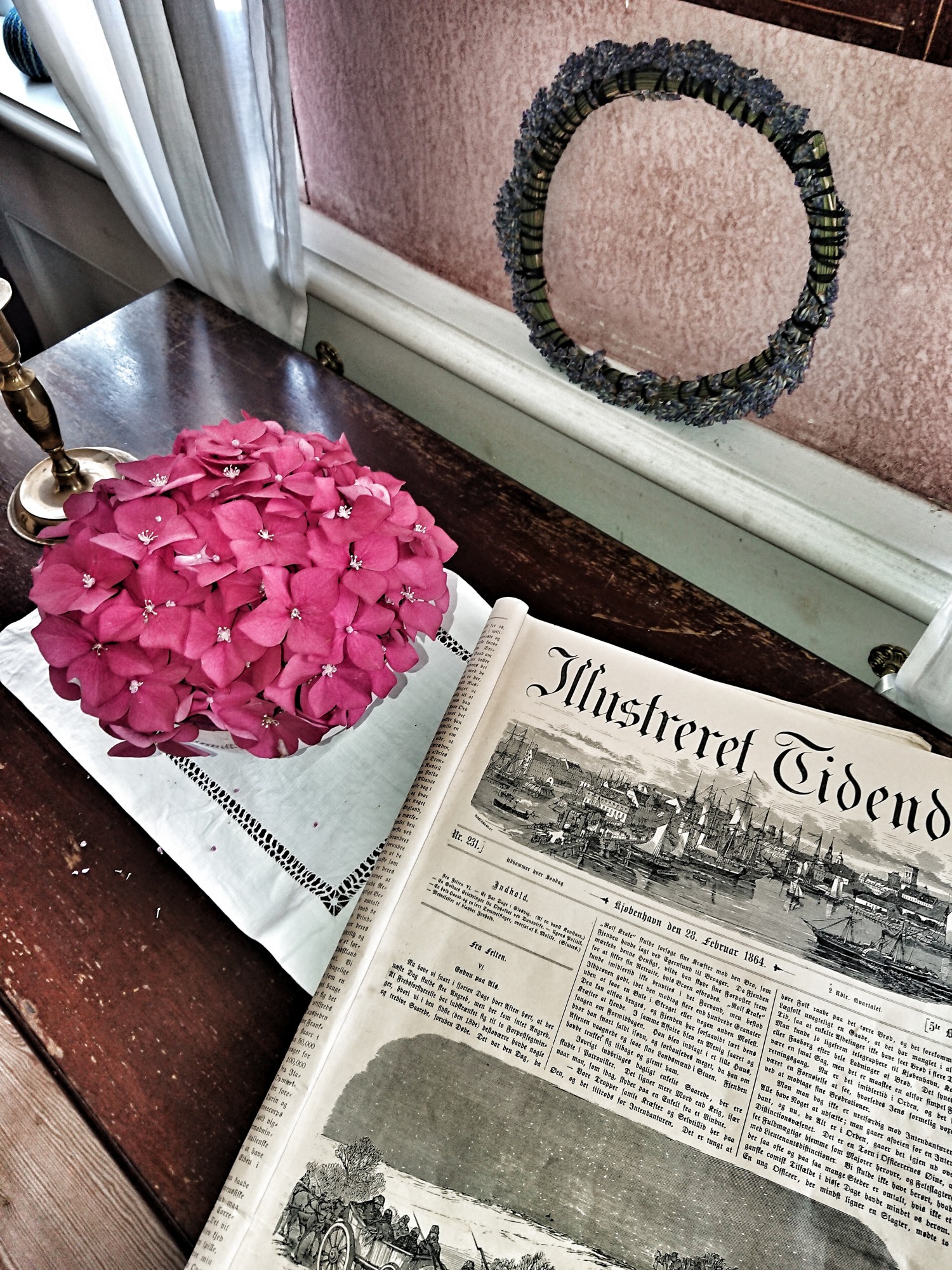 Illustreret Tidende – anno 1864, hvilke nyheder mon der var på dagsorden den gang?
"Illustreret Tidende" – a newspaper from 1864, I wonder which news made headlines back then?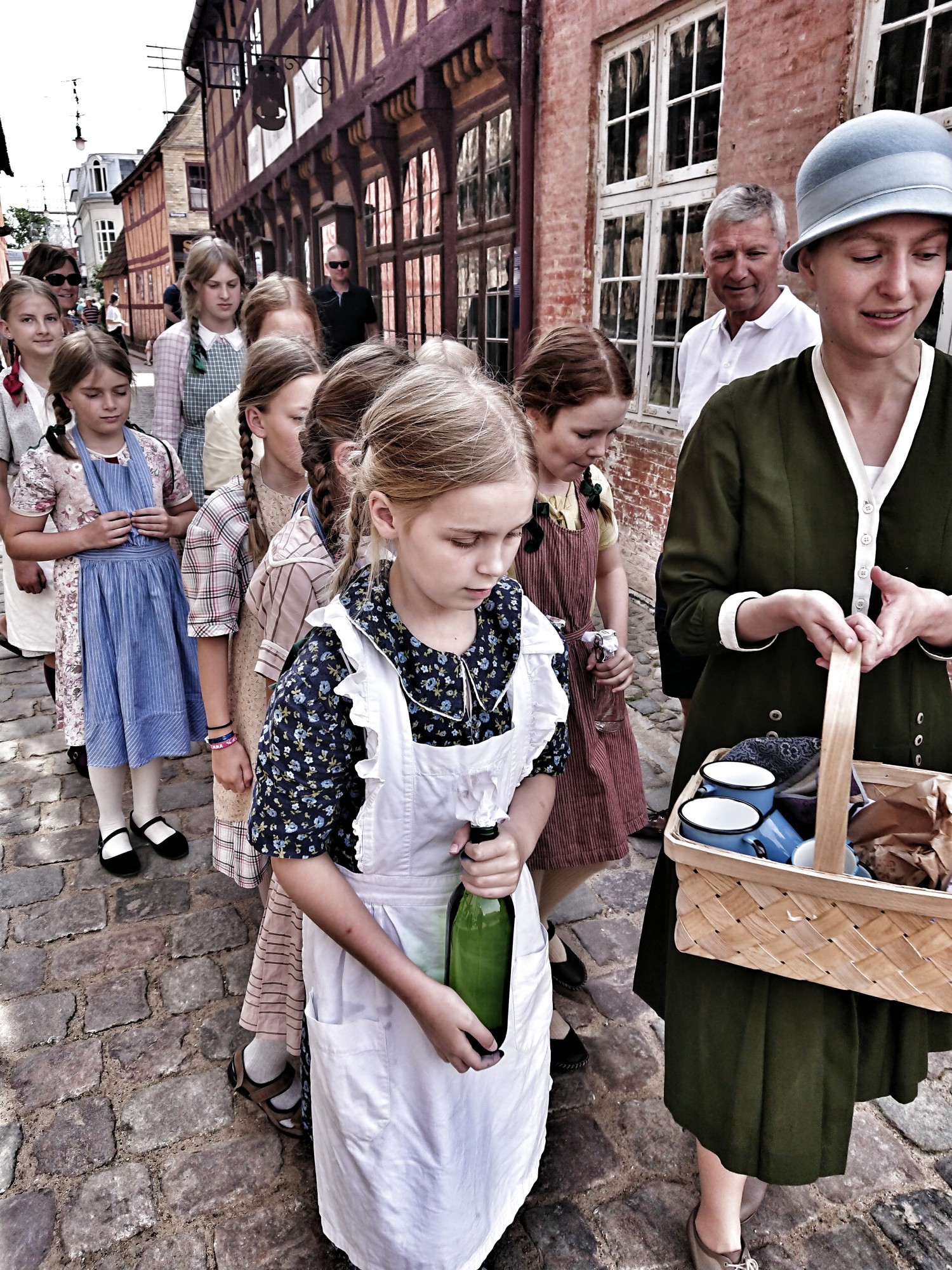 Skolebørn på udflugt som det så ud i 1927.
School children as they looked in 1927.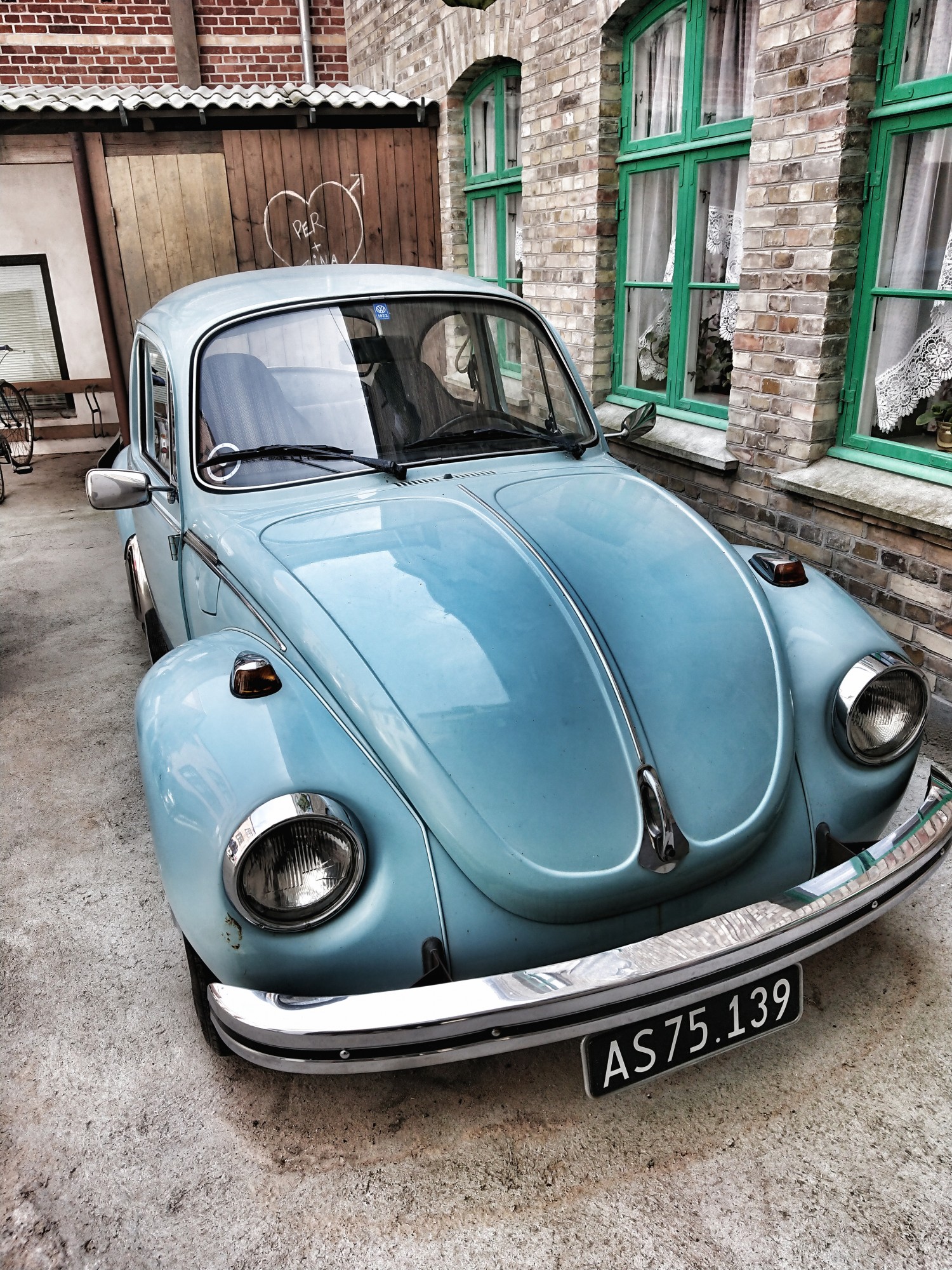 Hvem husker ikke den klassiske Volkswagen Beetle….
A true classic – the Volkswagen Beetle..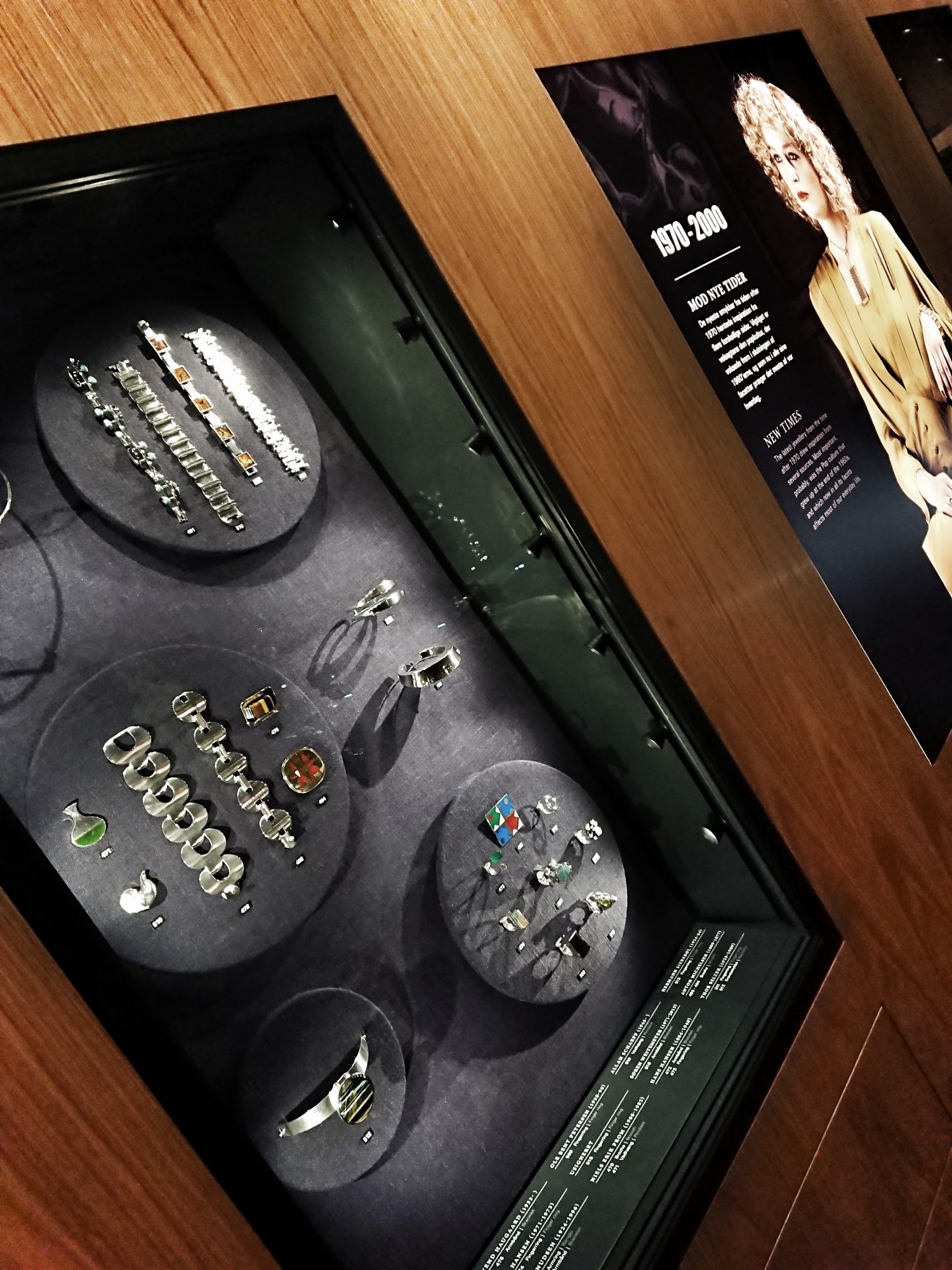 Smykkeskrinet – en særudstilling i Den Gamle By med danske smykker fra det 20. årh.
"The Jewellery Box" – a special collection in The Old Town with Danish Jewellery of the Twentieth Century.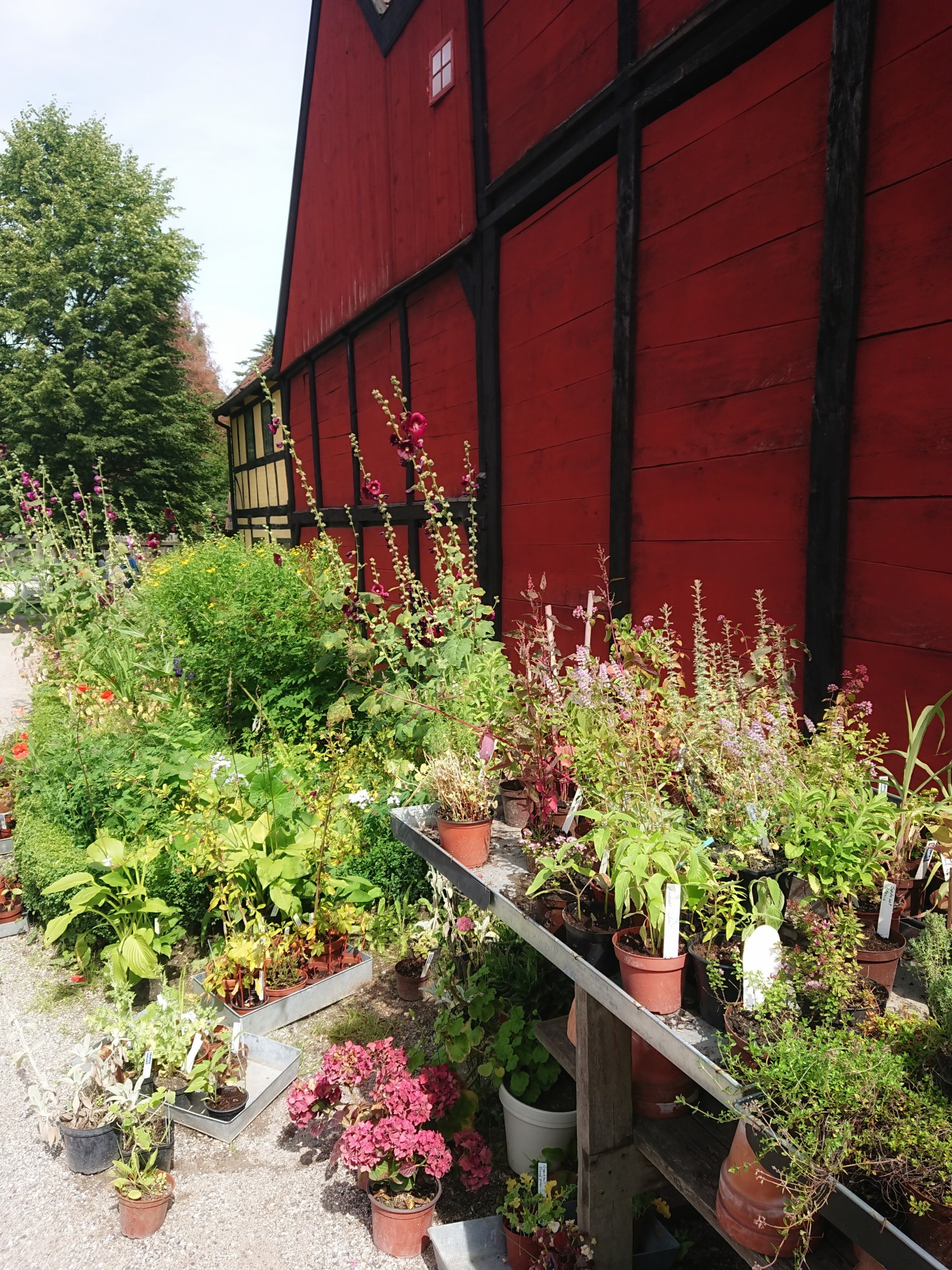 Planter og blomster – smukt som det stod i gamle dage.
Plants and flowers – looking as it did back in the days.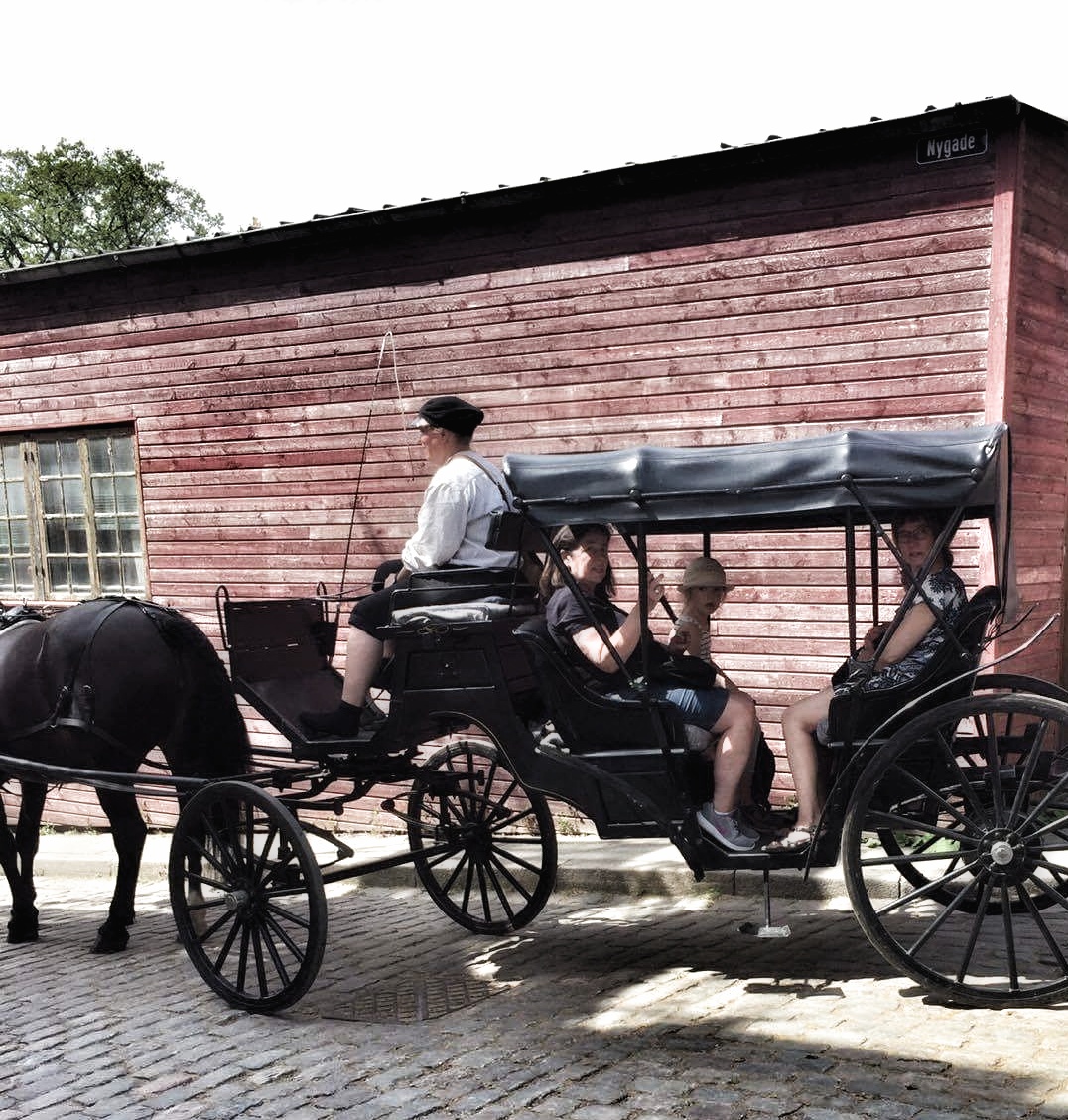 Man kan også opleve byen med datidens køreform – en hestevogn;)
You can also experience the town rolling as they did – on a horse-drawn carriage;)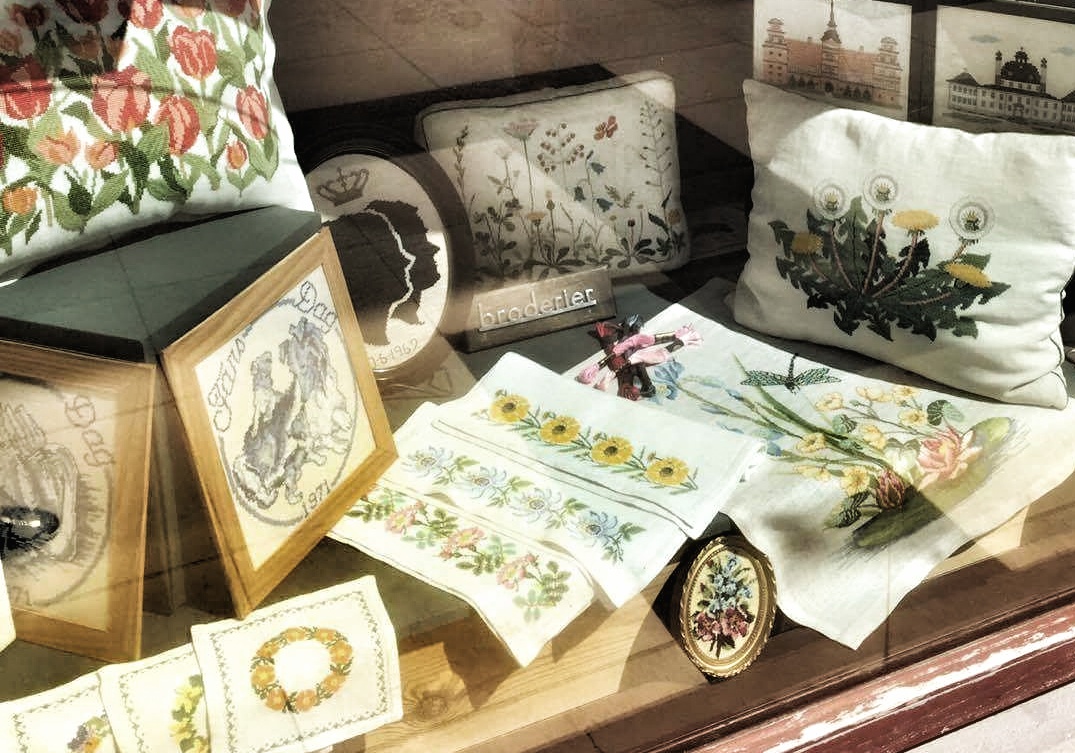 En butiksvindue med broderier – smukt genskabt.
A store with embroideries -beautifully recreated.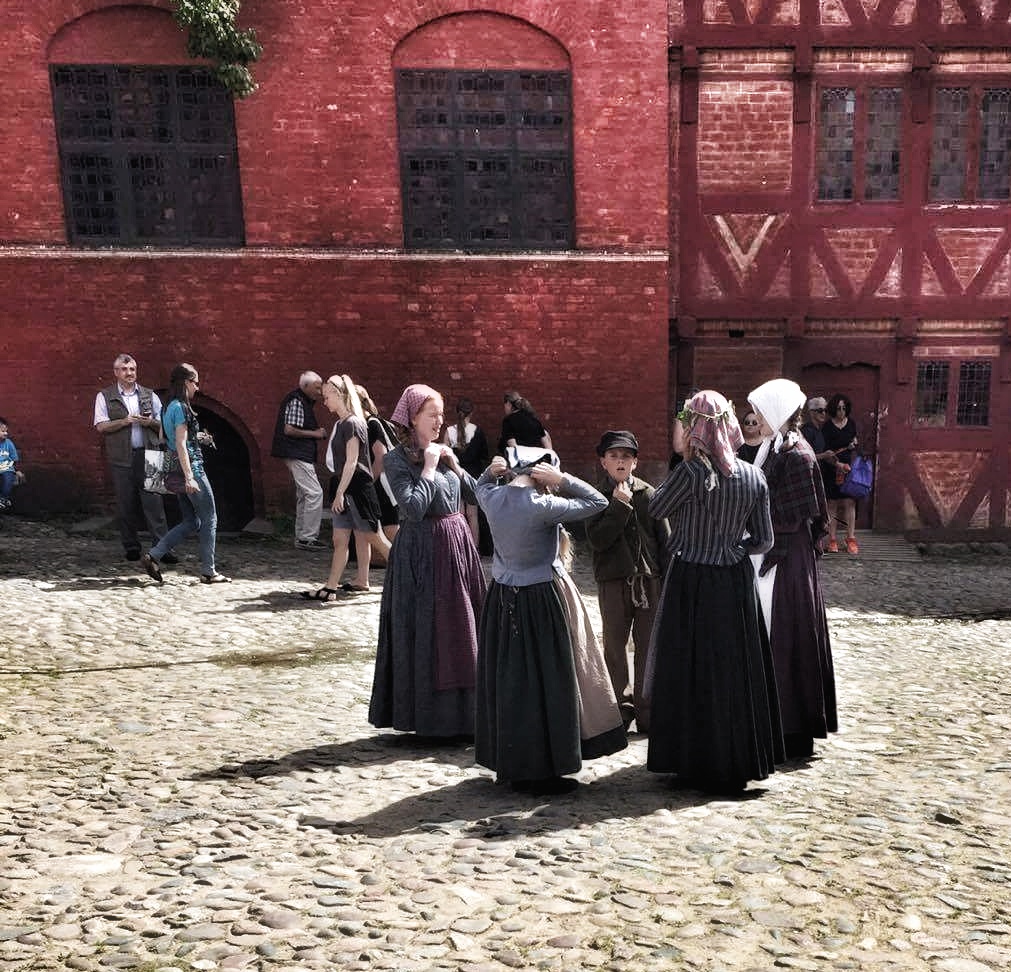 På torvet er der dans og glade dage som der var engang…
The citizens dance and have fun at the square….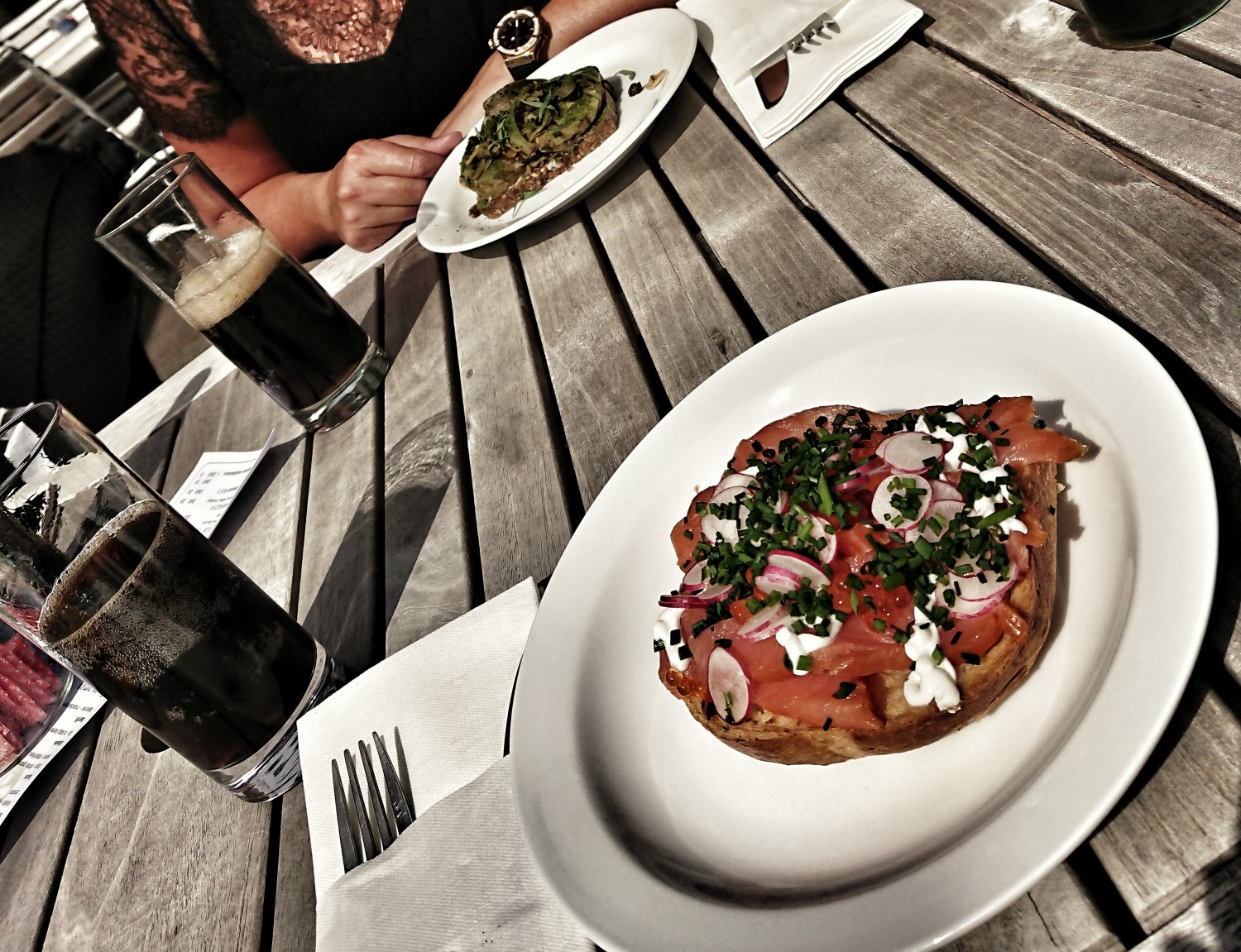 Rundt omkring i Den Gamle By er der forskellige spisesteder – med mad som det var i gamle dage. Super lækkert, og vi fik os et par højtbelagt smørrebrød på "Entré Cafeeén".
All around in The Old Town you'll find different places to enjoy traditional Danish dishes. We had a really nice lunch at "The Entrance Café" with open-faced sandwiches.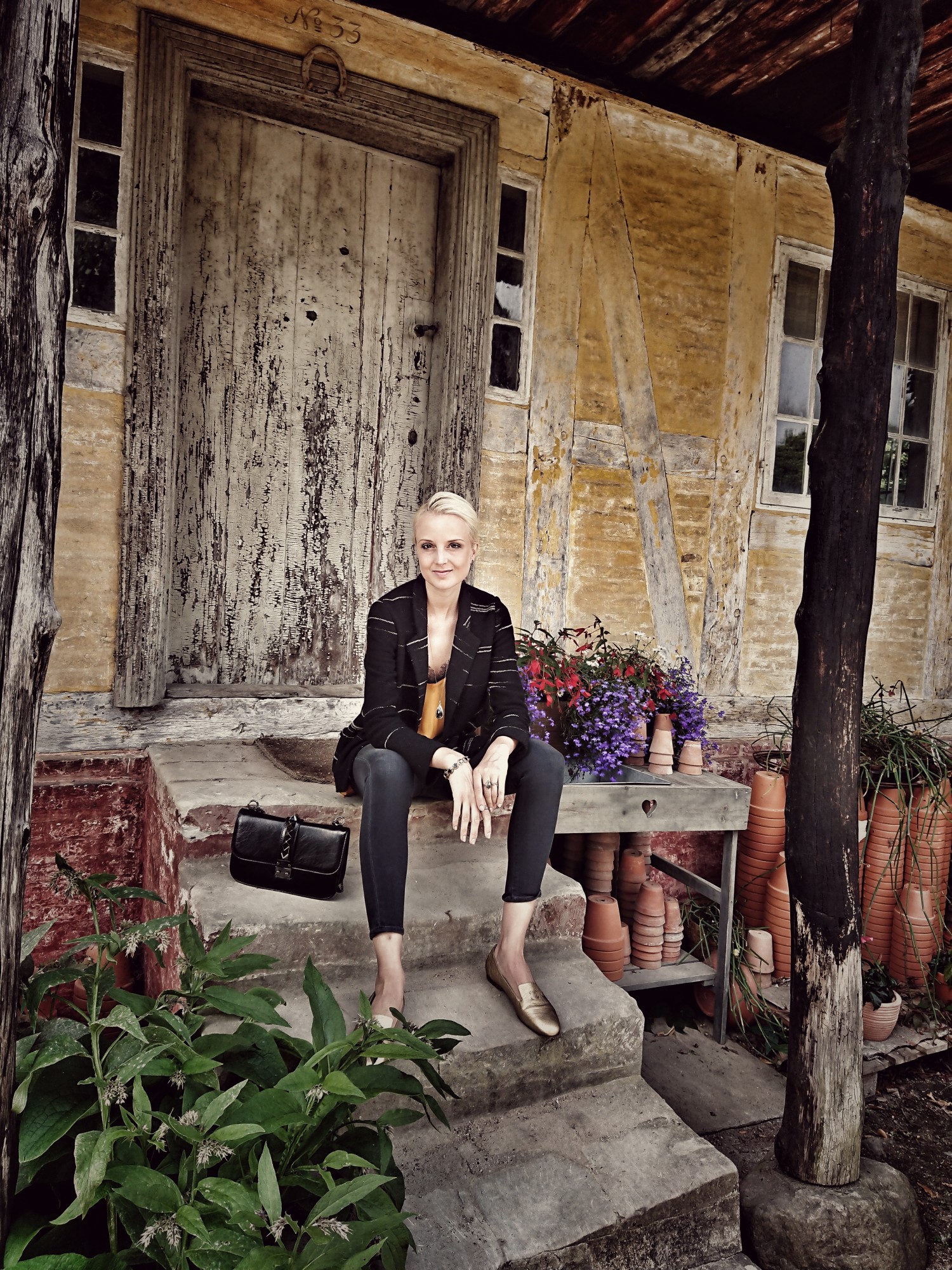 Til sidst skulle jeg da selvfølgelig lige have et billede fra dagens tur – godt matchet ind;)
Finally – I had to have a picture from todays visit – very well matching the place;)