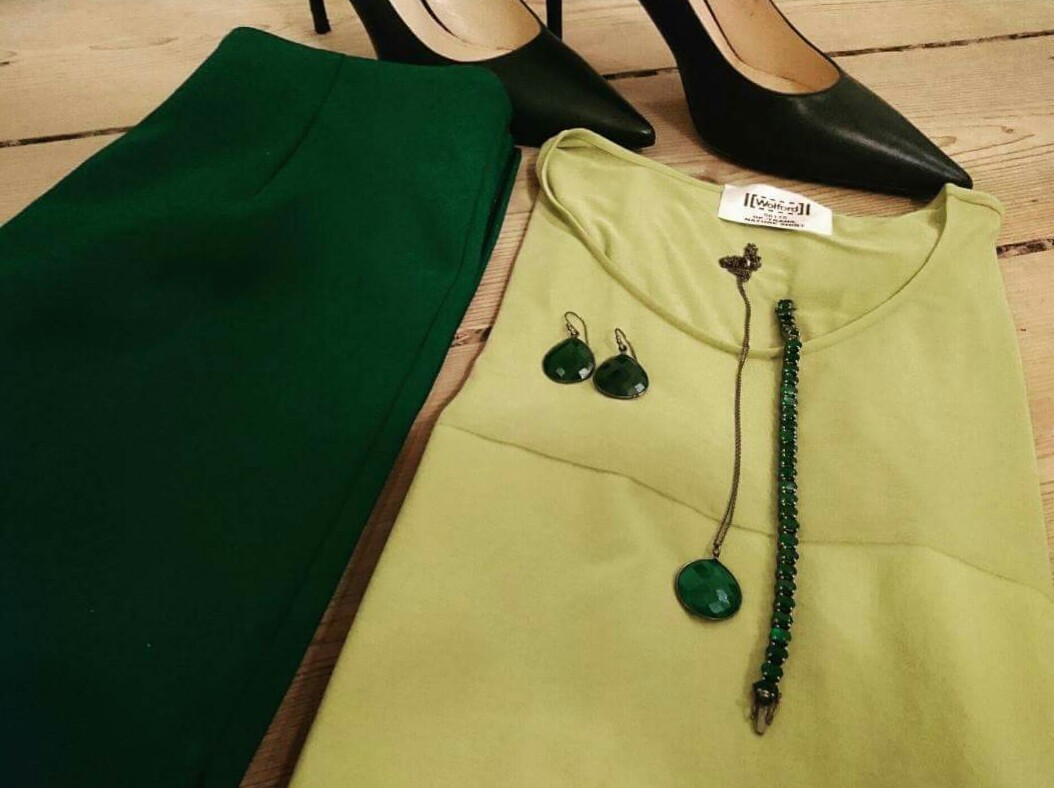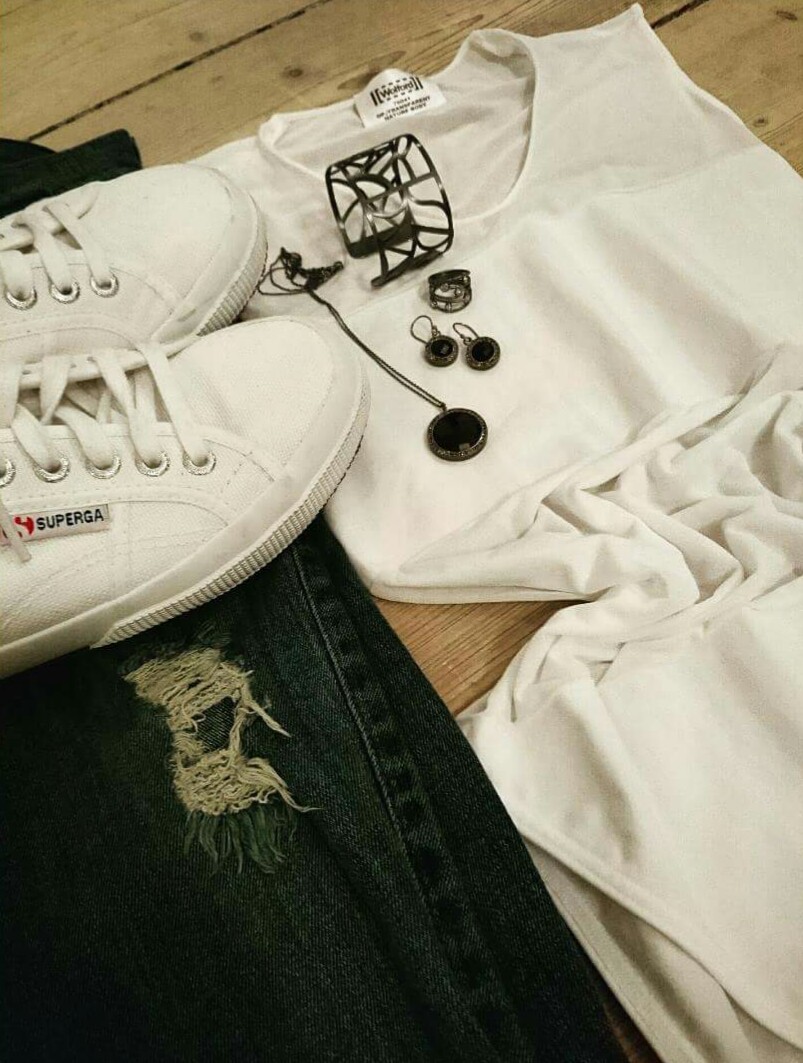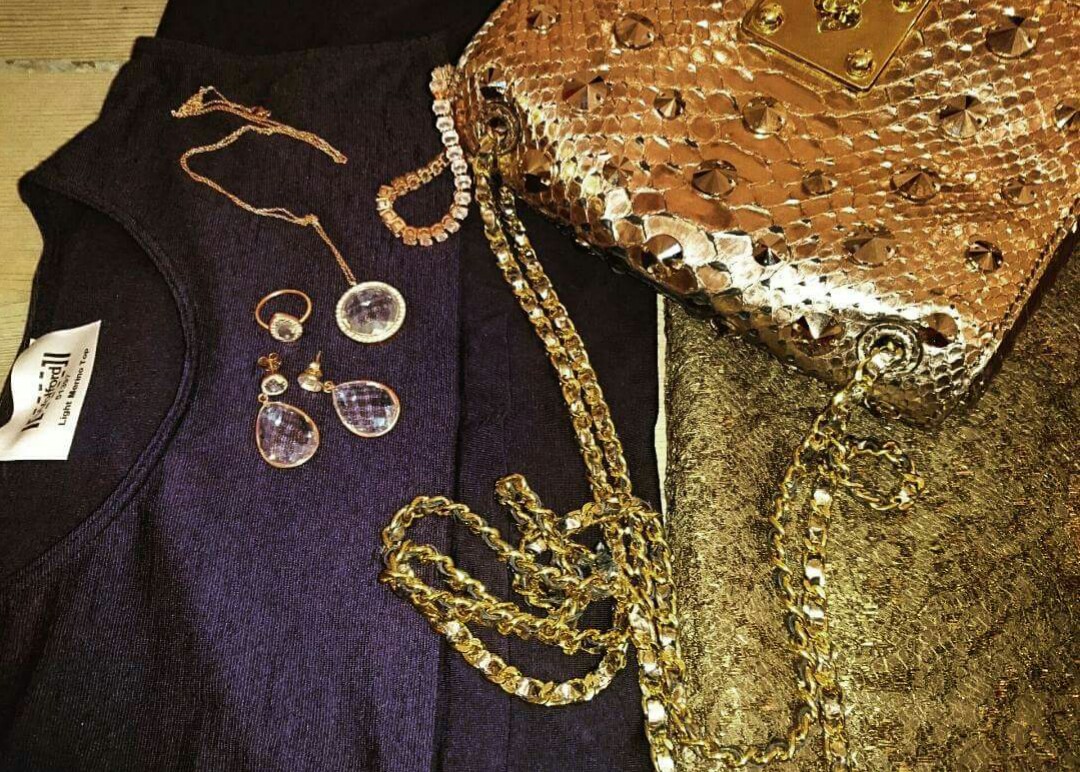 En T-shirt / bodystocking er ALTID et hit, super nemme og behagelig at bruge. Og så kan de styles på vidt forskellige måder – se selv de tre looks jeg har lavet her. Med tre fede toppe fra Wolfords sensommer-kollektion, der kommer i butikkerne på fredag d. 1 juli.
Det første look med den limegrønne semi-transparente top (Nature Shirt) er helt i tråd med en af sommerens største farvetrends grøn. De grønne shorts og stilletter, samt matchet med smykker i sort sølv og grøn onyx, giver looket et perfekt råt twist. Smykkerne er: Halskæde GRACIOUS – Øreringe GRACIOUS – Armbånd MARVELOUS.
Det andet look er mere sporty – med den hvide semi-transparente body (Nature Body)  matchet med sneakers og jeans. Smykkerne er i sort sølv med sort onyx, røgtopas og hvid topas ædelsten. Bemærk især det chunky armbånd, perfekt til et sporty look. Smykkerne: Halskæde GLAMOUROUS CIRCLE – Øreringe GLAMOUROUS CIRCLE – Ring TWISTED GEM – Armbånd FILIGRAN CUFF. 
Det tredje look er til den feminine side, med den lilla T-shirt (Light Merino Top) matchet med en blondenederdel, funklende taske og smykker i rosaforgyldt sølv med hvid topas og rosenkvarts ædelsten. Smykkerne: Øreringe MAJESTIC – Necklace GLAMOROUS CIRCLE – Bracelet MARVELOUS – Ring ENCHANTED.
Yes, styling gør hele forskellen, og smykkerne er og bliver afgørende for et look og stilen. Husk du ALTID kan kigge forbi vores butikker i Århus og København for tips til smykkestyling. Kig forbi når det passer dig, eller book en 30 minutters personlig smykkestyling HER.
ENGLISH
A cool T-shirt / bodystocking is always a hit, and SO easy to wear. I've found three favourites from Wolford – from their high-summercollection in stores 1st of july. Take a look hereunder,  and see how different the looks are.
The first look is with the limegreen semi-transparent T-shirt (Nature Shirt) in sync with one of this summers hottest colourtrends: green. The pumps, shorts and jewellery in black silver with green onyx adds the perfect edge for the look. The jewellery is: Necklace GRACIOUS – Earrings GRACIOUS – Bracelet MARVELOUS.
The second look is more sporty – with the white semi-transparent body (Nature Body) matched with sneakers and jeans. The jewellery are in black silver with black onyx, smoky topaz and white topaz. Note the big chunky bracelet – perfect to underline the sporty look. The jewellery: Necklace GLAMOROUS CIRCLE – Earrings GLAMOUROUS CIRCLE – Ring TWISTED GEM – Bracelet FILIGRAN CUFF. 
The third look is feminine – matching the T-shirt in purple (Light Merino Top) with a lace skirt, sparkling bag and jewellery in rosegold with white topaz and rosequartz. The jewellery is: Earrings MAJESTIC – Necklace GLAMOROUS CIRCLE – Ring ENCHANTED – Bracelet MARVELOUS.
YES, it's all about the styling – and the jewellery will top every look at the style you want. Remember you can always pop by our stores in Aarhus or Copenhagen for personal jewellerystyling. Pop by whenever og suits you, or book a schedule 30 minute session HERE.