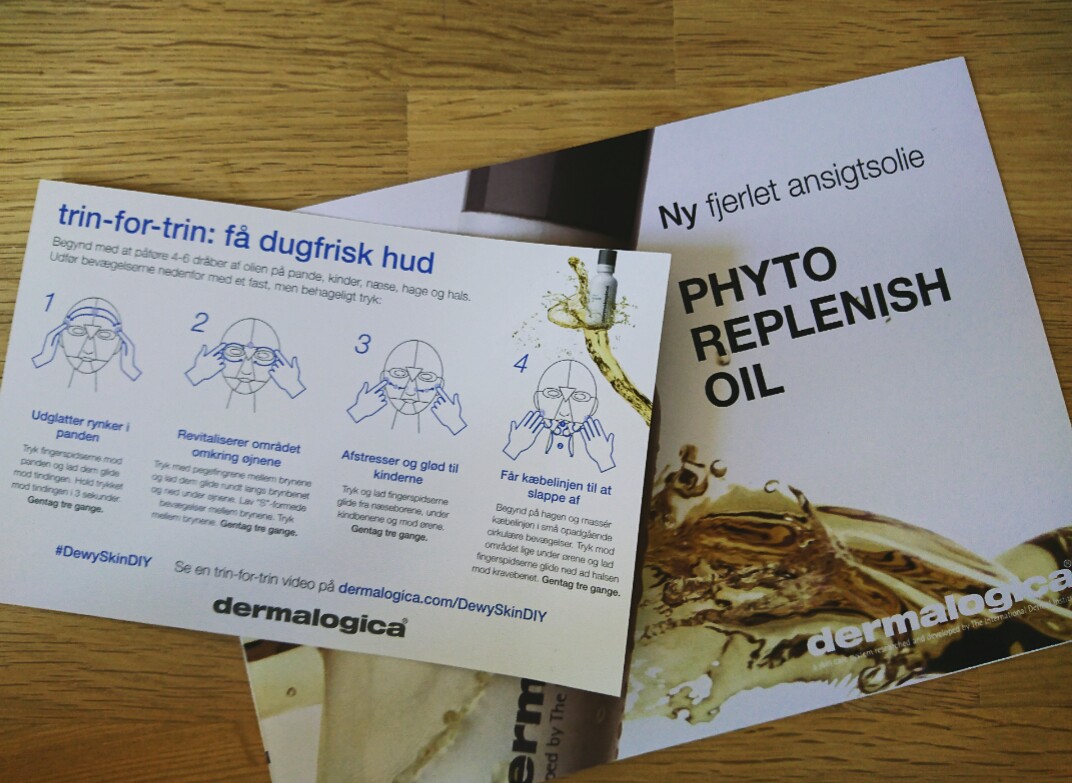 Efterhånden er det bidende koldt derude, efterårskulden er i den grad over os. Jeg elsker den her årstid, den er så ufattelig smuk – bladenes orange/røde nuancer og ikke mindst julen på vej…. Meeeen jeg elsker dog ikke hvad kulden gør ved min hud. Kulden udtørrer den og solens manglende stråler gør mig en anelse mere bleg… So what to do? Her har du et perfekt kit til efteråret: Dermalogicas nye geniale "Phyto Replenish Oil" som er PERFEKT til at rette op på hudens tørhed. Og smykker i rosa forgyldt sølv, som er perfekte til at give min ansigt glød.
Kort fortalt er "Phyto Replenish Oil" en super lækker olie du påfører huden efter den er renset,  men inden du kommer din almindelige creme på. Du kan også blande olien i din creme og bruge den sådan. Jeg gør selv det første, dvs på med olien før cremen. Som du kan se på billedet skal olien masseres godt rundt i ansigtet, hvilket i sig selv er en fornøjelse, for den dufter SÅ dejligt og fedter ikke. Olien kan også bruges sammen med din primer og dermed skabe den perfekte base for din daglige makeup.
Olien indeholder en hær af virkningsfulde ingredienser – lige fra blomsterolie til chiafrøolie. Den er lanceret her til efteråret og som sagt perfekt til at rette op på den tørre efterårshud, men jeg er nu sikker på, at jeg også vil bruge den resten af året, når min hud har brug for liiiige at få lidt ekstra glans og fugt tilbage. Resultatet ses tydeligt efter 2-3 dage, men faktisk allerede ved første påføring kan du se glansen komme igen. Nååå ja fik jeg sagt, at den også hjælper på synlige linjer? Ikke at jeg har SÅ mange rynker endnu, meeeen der er jo altid godt at forebygge;)
Phyto Replenish Oil koster 645 kr for 30 ml – hver en krone værd. Se mere HER.
OOOH yes, og så til smykkerne. For et super godt tip til at give huden en lækker glød – er at bære smykker i rosaforgyldt sølv. De giver så smuk en glød – prøv selv. På billedet ser du et par af juvelerne fra efterårets nyheder: Øreringe PEARLY med hvid topas ædelsten og ferskvandsperler (2649kr), halskæde AURA med hvid topas ædelsten (1999 kr.) og ringen PRECIOUS CIRCLE med hvide topas ædelsten (1899kr).
God weekend derude, nyd det smukke efterår – men husk også at passe godt på huden:)
ENGLISH
The autumn has for sure arrived and it's getting colder and colder. I love this time of the year – all the colors on the leaves are so amazing and inspiring  – and not least the fact that the christmas is coming soon… But I don't like what the coldness does to my skin – and the missing sun that makes my skin more pale. So what to do? Here is my perfect kit for the autumn: Dermalogicas new "Phyto Replenish Oil" which is PERFECT to add glow and hydration to my skin. And then jewelry in rose goldplated silver to add a perfect glow for my skin.
In short "Phyto Replenish Oil" is an oil which you use after having cleaned your skin – but before adding your regular moisturizer. You can though also mix the oil into your moisturizer and use it like that. But I prefer to add the oil before the moisturizer. As you can see on the picture the oil has to be gently massaged into the skin – in itself a nice treatment since the oil smells SO good, and then it's also not at all greasy. The oil can also be used as an base before adding primer, creating the perfect base for your makeup.
The oil is a blend of ingredients such as Orchid Flower and Chia Seed Oil – and the result you see right away. The oil rapidly absorbs into the skin, add an glow and reinforce the skins protective barrier. The oil has just been launched and is perfect for the autumn. But I'm pretty sure I will use it the rest of the year also, when my skin need an extra glow and hydration. Oooh did I also mention that the oil helps to abate fine lines? Well I know I don't have that many wrinkles yet, but it's always good to prevent them coming;)
Phyto Replenish Oil costs 62EURO for 30 ml. See more HERE.
And then to the jewelry. A good styling tip is to wear rosa gold-plated jewelry – since this rosa color adds a perfect glow for your skin. Try it yourself – it really makes a big difference. At the picture you'll see styles from the seasons new collection: Earrings PEARLY with that topaz + freshwater pearls (361 EURO), necklace AURA with white topaz (272 EURO) and the ring PRECIOUS CIRCLE with white topaz precious stones (259 EURO).
Have a lovely weekend, enjoy the beautiful weather – BUT take care of your skin.