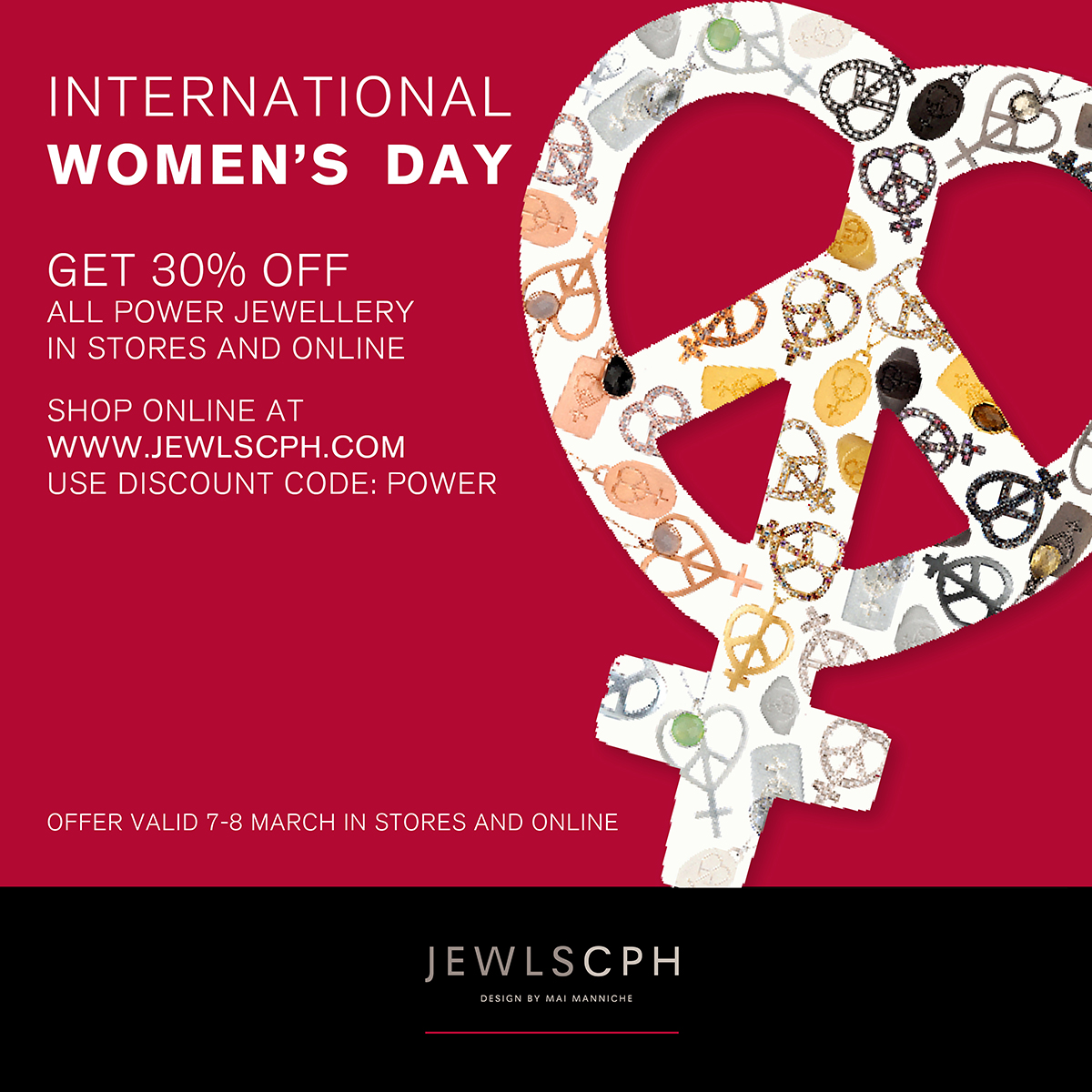 Ved du hvad dag det er i dag? Det håber jeg – uanset om du er mand eller kvinde – for det er 'Kvindernes internationale kampdag'. En vanvittig vigtig dag for kvinder, ligestilling og demokratiets fulde virke. Dagen er helt særlig for mig, jeg er vokset op med meget stærke kvinder omkring mig – min mor og mormor – og bliver i dag mindet ekstra meget om, hvor vigtigt et ansvar jeg har ift. at (forsøge) at gøre det ligeså godt som dem! Som min mormor gjorde det – og som min mor i den grad fortsat gør – ægte rollemodeller!
Netop som symbol på den kvindelige styrke lavede jeg for flere år siden – med sangerinden Aura Dione – det unikke POWERtegn, der kombinerer hjertet, peacetegnet og korset i et, som symbol på kvinders styrke. Vi fejrer kampdagen med 30% rabat på ALLE POWERsmykker.
Shop ONLINE med rabatkoden: POWER
Eller besøg vores butikker:
Aarhus,  Klostergade 3
København, Blegdamsvej 104A
Glædelig kampdag 💪
ENGLISH
So, do you know which day it is today? YES, it's International Women's Day – celebrating women ALL around the world. An important day for both women and men – for all of us believing in equality and democracy. Growing up among strong women – my mom and grandmother – the day is extraordinary important for me, reminding myself of the responsibility I have to try and do it as good as my grandmother did, and my mom still does, true rolemodels!
Actually to continuesly celebrating POWERwoman I launched a few years ago with the singer Aura Dione – The POWERsign, which combines the peace, heart and cross in one jewellery.  As a symbol for POWER!
Today you can get 30% off on ALL POWERjewellery.
Shop ONLINE and use the code: POWER
Visit our stores:
Aarhus,  Klostergade
Copenhagen,  Blegdamsvej 104A
Happy WOMEN'S DAY💪