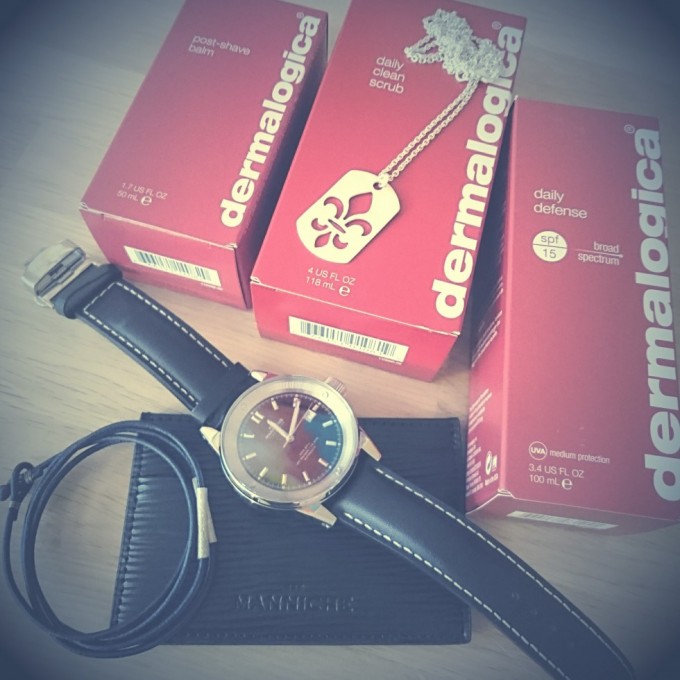 Vi kvinder bruger det i stride strømme – smykker, cremer, makeup, tasker etc. Ja et sandt overflødighedshorn af lækkerier og da også lækkert at være kvinde;) Men hvad med mændene, skal de ikke også forkæles og passe på sig selv? For det er jo faktisk det vi gør – forkæler os selv med smykker,  tøj, cremer, makeup etc. samtidig med, at vi passer på os selv og plejer os med selv samme. Det skal mændene selvfølgelig også. Okay de skal ikke op på stilletterne og have mascara på – men de skal passe på huden med de rette cremer og sætte prikken over i'et på deres look med smykker og ur.
Hvad er så den bedste hudpleje til mænd? Både min mor og her er fans af Dermalogica – men dermed ikke sagt det SKAL være det til mænd… MEN jeg har inden for de to sidste måneder fået to meget stærke bevis på, at det skal det! Både min far og min bror har netop haft fødselsdag og til dem begge forærede jeg et sæt fra Dermalogica: Daily Clean Scrub (bruges i badet hver dag), Daily Defense (creme der bruges dagligt efter bad og Scrub) – samt Post-shave balm (bruges de dage der barberes – før daily Defense).
Jeg var meget spændt på hvad d'herrer synes om det – for dem begge en helt ny verden, de har på ingen måde en tung toilettaske og er begge eksempler på 'typiske' mænd…. Og ved i hvad? De elsker deres nye produkter fra Dermalogica! For præcis som vi kvinder får en lækker velværefølelse af vores cremer og alt det vi plejer os med – det får mændene jo også. Så husk det – forkæl din mand med de rette hudplejeprodukter, lige så lækre produkter som du vil forkæle dig selv med.
Nååå ja og smykkerne – de er selvfølgelig også prikken over i'et, så som et lækkert læderarmbånd  SOLID DOUBLE TUBE matchet med et fedt ur såsom vores MANNICHE Timepieces – samt en rå halskæde ala FLEUR DE LIS (symbol på styrke og viden – lige noget for enhver mand).  Og så lige den sidste prik over i'et – en lækker MANNICHE læder-kortholder, så han kan trække kortet med stil når regningen skal betales 😉
ENGLISH
We love it as women – spoiling ourselve with luxury products such as jewellery, shoes, makeup, lotions etc. So nice to be a women;) But what about all our men – should they not spoil themself and TAKE good care of themself? Of course! Okay they might not need the makeup and the pumps – but for sure they need to pamper themself with high quality skincare and of course the perfect jewellery and with to top their look.
So which skincare is best for men? Both my mom and I are fans of Dermalogica – but that doesn't necessarily make it the best for our men. BUT in the last two months I have had streng evidence that it is the best! both my father and brother have had their birthday – and for both U gave a set from Dermalogica: Daily Clean Scrub (to be used in the shaver daily), Daily Defense (lotion to be used daily after the scrub) – samt Post-shave balm (to be used after stavning before daily Defense).
I was really excited about what the gentlemen thought about their present. They are both classic example on men – they don't have a huge toiletbag…  And you know what? They absolutely love  their new skincare! Just as we women get a feelgood feeling when pampering ourselve with luxury products.  Men does the same. So mark you this – spoil your man with as high quality products as you spoil yourself!
Oooh and the jewellery – they are of course the top on their look, such as a trendy leather bracelet  SOLID DOUBLE TUBE matched with our MANNICHE Timepieces – and a cool necklace ala FLEUR DE LIS (symbol of strengt and wisdom – something for every man).  And the final touch – the MANNICHE leather cardholder, so he can catch his cardigan with style when the bill has to be paid…