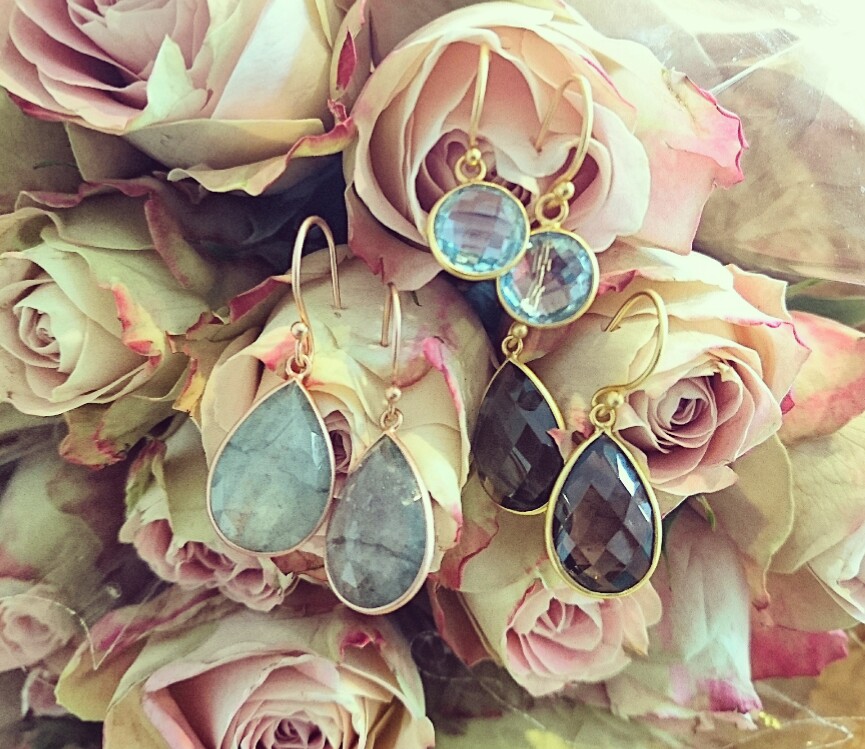 Mænd mænd mænd…. I vil jeres kvinder det bedste – men hvad er så den gave vi kvinder vil blive allermest glad for? YES, et smykke! ALLE kvinder elsker at få et smykke i gave, spørgsmålet er bare hvilket smykke. Her får mange mænd dårlige nerver – for hvad skal de vælge? Men men men, fortvivl ikke, for det er faktisk ret nemt. Kig din kvinde dybt i øjenene… Og forær hende et par øreringe i samme farve – de giver hende præcis de store dådyrøjne hun gerne vil have. Udover samme nuance som øjnene, er en kontrastfarve også flot.
Derfor:
Har hun blå øjne? Vælg et par øreringe med blå topas eller en anden blå ædelsten, såsom lapis eller blå corundum. ELLER en kontrastfarve såsom rosa calcedon. Se et udvalg HER.
Har hun brune øjne? Så er øreringe med brun røgtopas PERFEKT. Ametyst ædelsten er også flot – lilla er en god kontrast til brun. Se et udvalg HER.
Grønne (måske med en anelse blå)? Så er det perfekt med helt grønne ædelsten såsom grøn onyx, men også den grøn/blå labradorit er super smuk. Som kontrastfarve er rød såsom rød granat perfekt. Se et udvalg HER.
Skal det så være, forgyldt eller sølv? Hvis hun er feminin i stilen, så vælg forgyldt eller rosa forgyldt. Hvis hun er til det mere rå og enkle, så vælg sølv eller sort sølv.
Jeps, det var da ikke så kompliceret vel? Husk også du ALTID kan kigge forbi vores butikker i enten Århus eller København og få personlig vejledning til at finde det perfekte smykke. Til dig selv – eller gaven.
Du kan enten komme forbi som det passer dig i vores åbningstider – men du kan også booke en tid hos mig. Book GRATIS tid til smykkestyling HER.
Åååh ja jeg gik tidligere i dag LIVE om valget af det perfekte smykke;)
ENGLISH
Men men men, yes you all want the best for your women. But what is then the perfect gift? Without a doubt something sparkling: jewelry! But the question is then which one to choose? I hear it very often from so many men, that finding the perfect jewelry for their girlfriend, wife etc. is so difficult. But not at all – it's actually very easy with this one tip. Take a deep look in the beautiful eyes of your woman, and find a pair of earrings in the same color. They would enhance her eyes, giving her the most beautiful enticing eyes. It would also be good with an contrast color.
SO:
Does she have blue eyes? Choose a pair of earrings with blue topaz or another blue precious stone such as the darker blue corundum og blue lapis lazuli. As an contrast rose colors are perfect. See an selection HERE.
Brown eyes? Yes, earrings with brown stones such as smoky topaz are perfect. Or purple amethyst as contrast. See and selection HERE.
Green eyes (and may a touch of blue)? Green precious stones as green onyx are perfect, or the stunning labradorite in green/blue colors. As an contrast is amazing with red colors such as red garnet. See an selection HERE.
Which color of the metal to choose depends on the womans style. If she's feminine – choose gold-plated or rosa gold-plated. If she's more for the rock'n'roll and edgy look, choose black silver or silver.
So, that was not very complicated – was it? Remember also, that you can of course always pop by our stores in either Aarhus and Copenhagen and get our help for finding the perfect gift for someone you love, or of course also for yourself;)
You can either pop by in our opening hours whenever it suits you – or you can book med for a FREE stylingsession. Book me HERE.