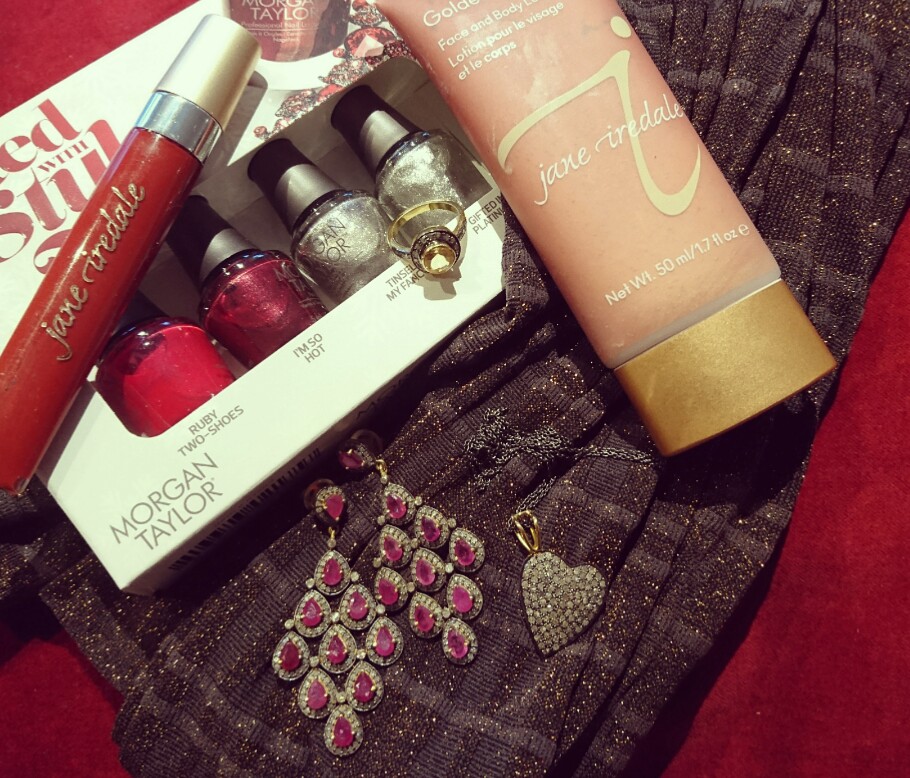 YES, det er helt og aldeles rigtigt, julen er godt på vej. Julens festligheder blev for mange skudt i gang med J-dag i fredags og de næste uger op til juleaften byder på mange dejlige fester. Det store spørgsmål er så, what to wear? Et godt tip er, at har du styr på neglene, makeuppen, et par lækre tights og ikke mindst smykkerne – så kan du "bare" skifte kjolen og vupti vidt forskellige looks. Og mon ikke du kan finde en sort kjole (eller to, tre eller fire – alt efter hvor mange fester) i skabet derhjemme? Har du en guld eller rød kjole, så er det også perfekt til den ene gang.
Mit julekit består derfor af et sæt med smukke neglelakker fra Morgan Taylor (så er der lidt at skifte imellem), et par lækre tights fra Wolford (ANA tights i guld er et hit) og GOLDEN SHIMMER (til krop og ansigt), samt en rød PureGloss  – begge dele fra Jane Iredale – til at give det perfekte julelook. Diamanter er ALTID en god idé, og med et par store festlige HARLEQUIN diamantøreringe med rubiner, PRECIOUS HEART diamantbeklædt hjertehalskæde samt en smuk GLAM WHITE diamantring med hvid topas ædelsten vil ethvert look blive helt klar til fest.
God jul – og nyd festerne;)
ENGLISH
YES, it's true – the christmas is right around the  corner, and this means a bunch of lovely parties from now and until christmas eve. The big question is then – what to wear? A good advice is, that if you make sure to have your nails well-polished, have a pair of "christmas" tights, the right makeup – and of course the perfect set of jewllery – then you can easily just change the dress with a new black one for each party. With this set, you will have a different look, but for sure a christmas look. And I'm sure you can find one (or two, or three, or four…) dress in your wardrobe. If you have a red or gold dress, it would be perfect for one of the parties.
My christmas kit consists therefore of a set with different nail polish from Morgan Taylor (then I have some to choose between), a pair of golden tights from Wolford, and then Golden Shimmer and a red PureGloss from Jane Iredale – to enhance the perfect christmas look. Diamonds are ALWAYS a good idea, and a perfect set is therefore the HARLEQUIN diamond earrings with rubies, PRECIOUS HEART diamond  necklace and a GLAM WHITE diamond ring with white topaz precious stone in the middle. With this set your look will be SO ready for every christmas party.